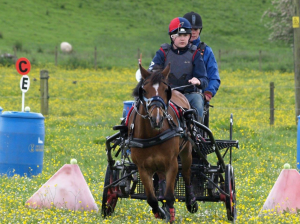 I do try to give a little back to my community with my work on the Hutton Fellowship Committee and the Dumfriesshire East Community Benefit Group. These committees distribute the grant funding, generated from local wind farms, to community projects that enhance the life and welfare of local residents. I really enjoy my work with them; we've funded projects for the local village school and hall, and we have just finished working with a local web designer to create a new Facebook page, website and logo for Hutton Fellowship Committee. I also undertake the treasury work for the committee for obvious reasons!
In addition, I support, where I can, a charity that is very close to my heart; Sports Driving Unlimited. This local family and community spirited charity allows children and adults with various spectrums of disabilities and learning difficulties to have a therapeutic interface with horses and ponies, and ultimately compete within the field of equestrian sport against able-bodied competitors at a national level. As my son is deaf, he has grown up with this charity and has competed in various carriage driving events including the British National Championships. I was also delighted when AIMS supported this charity at their annual conference in 2017.
Lastly, I just enjoy watching the changing seasons of the beautiful Dumfries and Galloway countryside.
If you are local to Theresa and would like to work with her, you can contact her through her page here.
Running a small business? You'll need an accountant. But not just any accountant. An accountant who doesn't charge by the hour. One who is local to you. An accountant who likes dealing with tax.
Your AIMS Accountant will visit you for a free, no obligation meeting to assess your requirements. It's what you expect an accountant to do, done well.