AIMS and American Express® are working in Partnership together to support UK SME businesses.
We at AIMS® pride ourselves that our Business Partners are the "top" in their field. This is a benefit for our clients because the better and closer we work with important Business Partners the better we are equipped to provide optimum service to our clients.
Exclusively for business owners – the American Express Gold Business Charge Card could help our clients manage their cashflow and make doing business easier, all while helping them earn great rewards.
Irrespective of what business our customers are in, using an American Express Business Card could benefit their business. American Express business Cardmembers represent many different industries including: dental, construction, veterinary, plumbing and electrical, retail, restaurant, automotive, optical, pharmaceutical, travel and consultancy just to name a few.
So whether our customers are paying for business travel, parking, office supplies, equipment, business registration or advertising, using the Gold Business Card our customers could turn business expenses in to rewards.
So, with American Express, AIMS are offering our customers the opportunity to earn rewards on their business purchases and keep their cashflow flowing.
And also…
Exclusive offer for current American Express Business Cardmembers:
AIMS now welcomes American Express and, to celebrate our partnership, we are offering to our new clients 12 months Accountancy services for the price of 111.
A special Membership Rewards® bonus for new Cardmembers:
If you become an American Express Gold Business Cardmember, there is a special Membership Rewards® bonus: you could get 5,000 Membership Rewards points on first £1 spend2. If you are new to us, you could also benefit from 12 months Accountancy services for the price of 111.
Click here to learn more or apply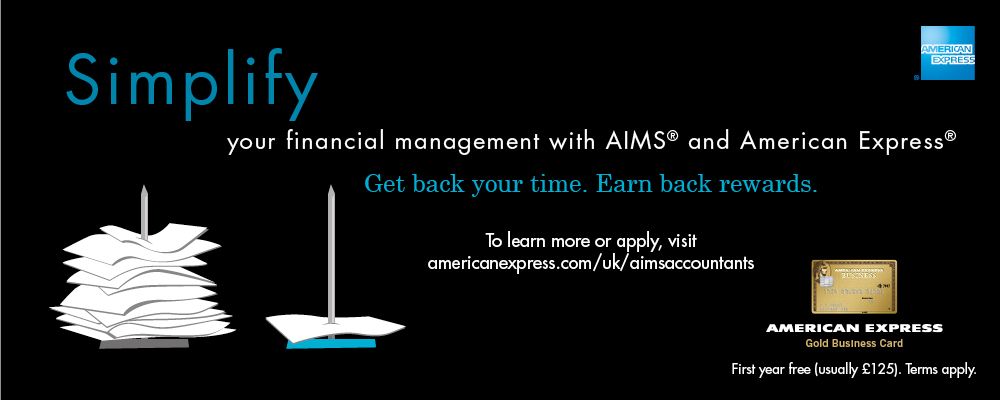 Terms and Conditions:
If you would prefer a Card without any rewards, other features or a Cardmember fee, an alternative option is available – The Basic Card. See americanexpress.co.uk/basicbusinesscard
1 Due to the Partnership between AIMS and American Express, AIMS are offering American Express Cardmembers a reduction in fees representing twelve months services for the price of eleven. This offer only applies to new AIMS clients.
2 As an AIMS client, provided you do not already have a Gold Business Card and you apply from www.americanexpress.com/uk/aims you are eligible for 5,000 Membership Reward bonus if you are approved and spend. All introductory offers are subject to change and can be withdrawn at any time.
American Express Services Europe Limited has its registered office at Belgrave House, 76 Buckingham Palace Road, London, SW1W 9AX, United Kingdom. It is registered in England and Wales with Company Number 1833139 and authorised and regulated by the Financial Conduct Authority.