Read how one accountant took the leap and traded the corporate rat race for the countryside with AIMS.
Have you thought about moving out of the city and starting a new life somewhere less hectic? What stopped you? Were you worried about how to maintain your income? Not sure about where you would go? The pandemic has made many of us think about how we want to live and work, and actually even before that many accountants have joined AIMS to escape corporate life – fed up with commuting and inflexible working and are looking to achieve a greater job satisfaction and a better work-life balance.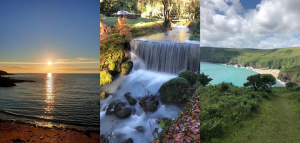 Grannie Richardson is just one example of someone who decided they were done with London life, and moved down to Cornwall to start fresh with AIMS. We asked her some questions about why she did it:
What were you doing before you joined AIMS?
Working very long hours in the asset management industry. I was a Sterling corporate bond portfolio manager when I became pregnant with our twin boys. After maternity leave, I did a lot more project work in the fixed income department of Blackrock
Why did you want to leave London? 
More autonomy over my own life, to live more and not be so tired all the time.  I wanted to feel in touch with the planet again.  The daily grind of getting kids ready for nanny/nursery/school, harried tube journey to work, rushing through the city barely noticing the people around me, office politics, mad dash to get home for our nanny/nursery/school, dinner time, bath time, story time, bed time, dinner for us and then zone out in front of the tv.  That was our life, and we were exhausted.  It felt like a complete waste – there is so much the world has to offer, and we just were not taking advantage of that.  Even if we wanted to have adventurous family holidays, we were too tired so would opt for the all-inclusive pool side hotel holiday.
Why did you choose AIMS? 
I was terrified of setting up an accountancy practice on my own as I had never actually worked as an accountant even though I qualified as a CIMA graduate. Therefore AIMS was the right choice as they could support me on my journey.
How did you choose where to move to? 
We always loved Cornwall – there is something so special about it – every corner you turn there's even more breath-taking scenery.  People here prioritise enjoying life above earning more and more.  Most people here work flexibly and meet up for lunchtime surf's or wild swimming – that is what we wanted not only for us but for our children.  Our social life has improved ten times over since moving here.  And what has surprised us is that there were so many others like us.  Above 50% of our children's class has moved here from elsewhere in the UK in the last couple of years – all like us, trying to escape the rat race.  We knew moving out to the home counties would still not give both of us the life we wanted as the commute would be even greater than living in London.
What do you miss the most? 
Deliveroo or Uber Eats! – There's not very much in the way of home delivery.  I miss sushi restaurants.  There's a good sushi restaurant in Plymouth and Newquay but other than that its's not so freely available.
We have never looked back; every single aspect of our lives is better and that has made our relationship with each other better and our relationship with our kids better.
What's the best thing about your new life? 
Going for a wild swim, taking out the kayak or SUP boards at any point during the day as our lives are that flexible now.  The space and wilderness is another – every walk is stunning and sometimes we have to pinch ourselves when we look around. Seeing our kids make dens a couple of fields away, or just popping in to feed our neighbour's horses puts a huge smile on our faces. Our kids now have so much more independence than they would have in a city.  Oh, and after school BBQs on the beach – just bliss, all of it.
Any regrets? 
None – best decision we've ever made – not once have we looked back.  We are thankful every day that we were brave enough to just do it because there were times, we almost chickened out!
To start your AIMS journey, call 0207 616 6642 today.